After almost a year-and-a-half of preventative measures of varying degrees, Radol'ca's summer events calendar kicks off in style this week, with almost a year-and-a-half's worth of events in just one week!
The first event, and one that many have been waiting (im)patiently for, is the Queen Real Tribute Band, who were lined up to perform at the 2020 Radovljica Chocolate Festival, and who were also on standby for this year's festival – both of which were cancelled, though a somewhat smaller festival is scheduled for 11th and 12th September this year – and will now finally be on stage this Thursday 1st July in the first of a series of Thursday evening concerts throughout July. The evening is due to start at 8pm with a Taste Radol'ca culinary market in the Radovljica park, which is open to all, followed by the band at 9pm (ticketed event).
Those more interested in traditional Slovenian folk music can head for nearby Begunje na Gorenjskem where live music evenings have now resumed at Gostilna Avsenik (ticketed events) – the home of Slovenian folk music – with the Avsenik House Ensemble and other guest Slovenian folk music ensembles.
During this current heatwave, for many a cold beer is bound to hit the spot, so the Radovljica Craft Beer Festival, which takes place on Saturday 3rd July from 12noon onwards, is the place to be. The festival will be held in the Radovljica park and feature a food market with Slovenian craft beers and Taste Radol'ca food.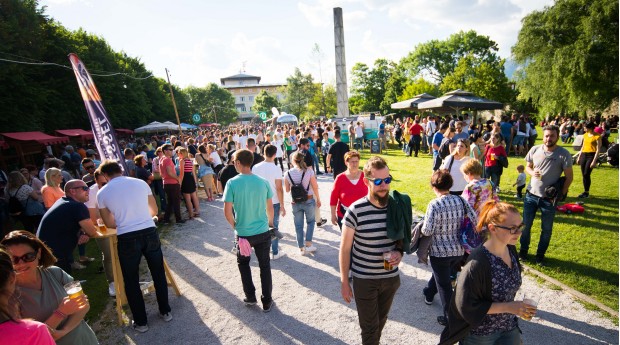 The Kropa Iron Forging Festival takes place on the same day, Saturday 3rd July. So, be sure to plan the day well and, in fact, why not head for Kropa first then stop off at Radovljica on the way back, but remember: Don't drink and drive!
The festival will run from 10am to 6pm and includes free entrance to the Iron Forging Museum throughout the day, a reenactment of the life of Kropa's blacksmiths with the Cofta Drama Group at 12noon in the Vigenjc Vice forge, a small craft market, open day at the UKO wrought iron factory, a demonstration of smelting iron ore, and more.
Also on the same day – yes, there's more! – the regular monthly Vila Podvin farmers market takes place in the garden of Vila Podvin (one Michelin Star) from 10am to 12noon, where you can meet local producers and suppliers, and sample and buy their products.
Once you have recovered from all of the above, there are plenty of other events coming up through the month of July. Check out the events calendar for more details.
Meanwhile, if you're looking for somewhere (else) to 'chill', the Radovljica swimming pool is the ideal place to cool off at this time of year. I took this snap of it looking glorious in the sunshine earlier today from Obla gorica, the small hill behind the pool.
Note: many of the events are still subject to social distancing measures and are now ticketed, so be sure to check out the Visit Radol'ca website for the latest information.
© Adele in Slovenia