Radol'ca, like much of the rest of Slovenia, is awash with stunning autumn colours at the moment, so if you get the chance, now is the time to visit and take a drive through the Gorenjska countryside.
This week and next will be the peak of the autumnal colours, as the leaves are dropping at a rate of knots now, so don't miss out on this short-lived annual spectacular. Autumn is a time of mixed emotions for me; I love it because of the colours and still (usually!) relatively warm weather, but at the same time know that it means winter is on the way!
In addition to stunning colours, autumn is a time of seasonal tastes, and the annual Taste Radol'ca month of local menus, which takes place every November, is another good reason to visit. This Friday 29th October the opening event of this year's Taste Radol'ca takes place at Vila Podvin in Mošnje, near Radovljica. It begins in the afternoon with a farmers' market featuring local suppliers and tastings, whilst in the evening the opening dinner will be prepared by Taste Radol'ca chefs and served by waiting staff from all the nine participating restaurants.
The farmers' market, which will run from 5pm to 7pm, is open to everyone – the more the merrier (though note that you must meet, and be able to prove, that you meet one of the RVT conditions (recovered, vaccinated, tested) – while the five-course opening dinner is a ticket-only event. Contact the Radovljica Tourist Information Centre to enquire about purchasing tickets and to find out more information about what to see and do in autumn in the Radol'ca area.
After the opening event, and right up until the end of November, you will be able to try one (or more!) of the specially prepared menus featuring local ingredients prepared by the talented Taste Radol'ca chefs at: Vila Podvin, Draga Inn, Lectar Inn, Kunstelj Inn, Gostišče Tulipan, Gostilna Avguštin, Gostilna Pr' Tavčar, Restavracija Center and Restavracija Tabor.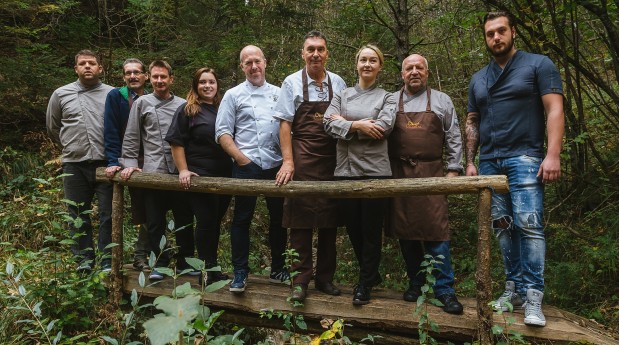 On a side note, albeit still on the same theme, if you haven't yet got round to visiting Vila Podvin – awarded a Michelin Star in both 2020 and 2021 – you might want to hot foot it there before the end of November (again, don't forget RVT), when its eight-year chapter of exceptional success draws to a close.
But all is not lost, as one book closes and opens, as the entire Vila Podvin team will be moving to Hotel and Restaurant Linhart in Linhart Square, the heart of the old town of Radovljica, which Uroš and his business partner, Marcela, bought at the start of 2020 as a result of their offer being rejected to purchase the building in which Vila Podvin operated. The hotel, like many other places in Radovljica (Linhart Hall, Linhart Square…) is named after the well-known 18-century Slovenian playwright Anton Tomaž Linhart who lived in the neighbouring house.
So, now is the time to visit AND taste Radol'ca! Hope to see you there, or rather here, soon!
© Adele in Slovenia