It's hard to believe it's December already. Is anyone else wondering where 2022 has gone? It seems to have whizzed by and the festive season is now upon us. At least this year, unlike the past two – for obvious reasons – we can enjoy Christmas with our families and loved ones, and join in group events and celebrations, so all the more reason to get in the festive spirit and start planning what to do, where to go and, of course, what to eat and drink!
The festive season here in Radovljica kicks off tomorrow, Friday 2nd December, with the switching on of the Christmas lights in Linhart Square, the heart of the old town centre. It also marks the end of this year's Taste Radol'ca Month of Local Menus, and as such the closing event will feature all of the participating Taste Radol'ca restaurants, whose chefs will be cooking up some delicious street food to keep visitors warm and well fed while listening to live music and enjoying the festive atmosphere.
Thereafter, throughout the month of December there are a whole host of events taking place in Radovljica and the surrounding villages, too many to list here, so I have picked out a few highlights to whet your appetite and you can find the full programme here.
The very next day, Saturday 3rd December, the ever-popular monthly Radol'ca Market takes place from 10am to 1pm, this time with added entertainment for children with horses from the Sitar Ranch.
I'm particularly looking forward to this month's market as for the first time ever there will be a stall of gluten-free goodies, made by an acquaintance of mine who has her own gluten-free workshop, Šcepec Vanje (A Pinch of Vanja) and who I know through the Facebook group I set up and run for coeliacs. Cake pops, biscuits, honeybreads and more await!
Even if you are lucky enough not to have to avoid gluten, it's well worth trying Vanja's divine profiteroles!
On Sunday 4th December from 10am to 7pm there is a St. Nicholas market, creative workshop for children, theatre performance and a visit by St. Nicholas himself!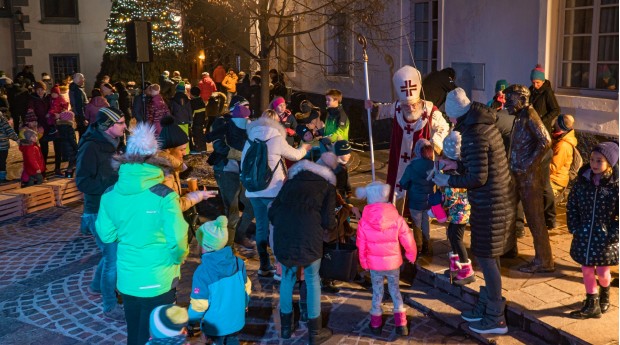 The annual Advent Market begins on Friday 9th December from 3pm to 7pm.
There will also be numerous street shows by Ana Snežna, as well as Čupakabra.
So, as you can see, there's plenty to see and do here in Radovljica throughout the month of December and, of course, since the town is close to the motorway and well connected by public transport, you can easily visit Ljubljana to see the Christmas lights and visit the Christmas market, as well as other towns and cities throughout Slovenia.
So, this December, cherish time with your loved ones, spare a thought for those that aren't in such a fortunate position and, above all, have a happy and healthy festive season!
© Adele in Slovenia